MODULAR Mini Storage Products
---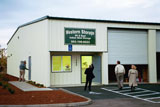 We offer top of the line RV and boat storage as well as mini-warehouse, and incubator/flex space. These building kits are available at a competitive cost. Our kits feature a panelized system that is easy to assemble. No cranes or welders are required. Your walls will arrive at your site ready to stand in place. These structures are built for Northwest climates.
Real walls stand between each storage unit
Bay widths from 12' x 40'
Easy to insulate pre-fabricated walls
24- gauge standing-seam roofs
Interior office walls and ceilings
Firewalls incorporated at little cost
MODULAR totally enclosed units provide:
A high rate of return,
Greater security, and
Superior weather protection.
Besides RV and boat owners, these units appeal to contractors, small businesses, and households needing a larger unit.